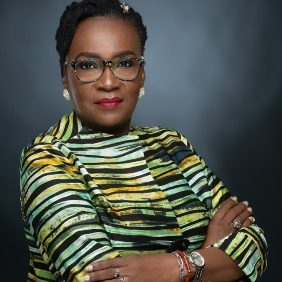 OTUNBA (MRS) DEBOLA OSIBOGUN JP – B.Ed (Econs), MSc (B&F), FCTI, FNIM, FIoD, FCIB, FERP
Otunba (Mrs.) 'Debola Osibogun is the founder of CAFEI. She is a retired banker and she brings to the board 31 years of immense financial services experience covering real estate financing, retail savings and loans at various institutions. She holds a Master of Science degree in Banking & Finance and a Bachelor of Education in Economics, both from the prestigious University of Ibadan.
A Fellow and former President of the Chartered Institute of Bankers of Nigeria, she is also Fellow of the Chartered Institute of Taxation of Nigeria, the Nigerian Institute of Management, a Fellow of Enterprise Risk Professionals and a Fellow of the Institute of Directors (IoD). She had an illustrious financial services career cutting across Co-operative Bank Plc., Coop Savings & Loans Limited, Skye Bank Plc. and Skye Trustees Limited. She was previously the Managing Director of Skye Trustees Limited and currently the Managing Director of David Finn Global Concept Limited. An astute researcher and writer, Otunba Osibogun has published several articles expounding on primary mortgage institutions and creation of mortgages. She has also served on the following boards: FBN Holdings Plc, FBN Mortgages Limited as a Non-Executive Director, MD of Coop Savings & Loans Limited and was the National President of the Mortgage Bankers Association of Nigeria.
Otunba Osibogun has also served in several national capacities as a Member of the Presidential Committee on Housing and Urban Development, the Presidential Committee on Mortgage Finance and the Nigerian Real Estate Developers Association. She is currently serving on the boards of Odu'a Investment Company Ltd and Imowo MicroFinance Bank.
She is happily married and loves basketball, polo and golf.