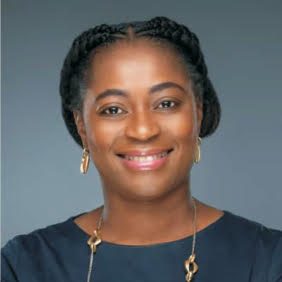 FOLAKE ANI-MUMUNEY MIoD, HCIB, FCIM(UK) FNIMN
Folake Ani-Mumuney leads the Marketing and Corporate Communications function globally for the FirstBank Group, with oversight for same function for FBN Holdings Plc and all its subsidiaries spanning Asset Management, Investment Banking, Private Equity, Insurance, Pension Fund Custodian services –one of the most diversified financial conglomerates on the continent. An experienced well rounded C Suite Executive, Folake is the immediate past Chairman Board of Directors of FBN Insurance Brokers, Vice Chairman of Junior Achievement Nigeria and sits on the Executive Council of the World Federation of Advertisers, head quartered in Brussels amongst several other diverse Boards she serves on.
With a career spanning over 25 years across sectors such as banking, aviation, manufacturing, oil & gas, amongst others, Folake has held varied roles, leading strategy and business planning, business analysis, process re-engineering, innovation, marketing and communications. Managing continental portfolios, she has held regional and global responsibility covering Europe & Africa, Asia Pacific, Middle East and the United Kingdom, residing in various countries across the course of her career.
With a burning passion for development of the Africa Continent, Folake resigned from her role with British Airways in the UK, where she was managing Brands Policies and Communications covering the Europe and Africa region with responsibility for 59 countries and moved to Nigeria. She took on the pioneer role of Chief Marketing & Corporate Communications Officer for the Dangote Group, an executive role that saw her introduce many innovations to the largest diversified conglomerate in Africa. From there, Folake joined the FirstBank Group as the Chief Image Maker and serves in multiple roles within FirstBank and FBN Holdings, the parent company. Notably she recently led the turnaround of one of the strategic subsidiaries, FBN Insurance Brokers as the Chairman of the Board.
With tangible contribution to various sectors, committees and professional bodies, Folake was the first female President of the Advertisers Association of Nigeria (ADVAN), served on the Ministry of Finance led Presidential Committee on Efficiency and has contributed in an advisory role to many Public-Sector Agencies and Commissions, focusing especially on Tech, Health, Education and Women. With a keen interest in mentorship, diversity and inclusion Folake serves as an Advisory Board Member of WISCAR (Women in Successful Careers) and served on the WimBoard Advocacy committee of WimBiz (Women in Business and Public Sector) amongst many other such volunteer roles.Following recognition at home and abroad, Folake has several awards under her belt and is particularly proud to be a 3-time, Lifetime Achievement Award winner within and outside Nigeria.
An Honorary Member of the Chartered Institute of Bankers of Nigeria, Folake is a Fellow of the Chartered Institute of Marketing UK, a Fellow of the National Institute of Marketing Nigeria, and a member of the Institute of Directors Nigeria. An alumna of the prestigious Harvard Business School Advanced Management Programme, Folake holds a first degree in Philosophy from the University of Lagos, Nigeria, a second degree in Law from the University of Buckingham, England, a Diploma in Business Computing Systems Analysis and Design and holds many certificates from attending leading Business Schools around the world.
With a mind for adventure Folake enjoys boating and travel in her spare time, two things that feed her interests as a futurist and trend spotter with remarkable accuracy. Folake is happily married with 3 children, and currently lives in Nigeria.