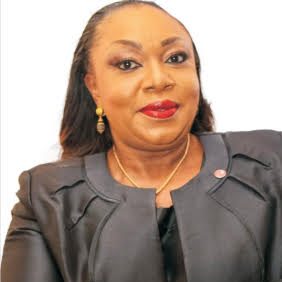 Mojisola Bakare (Married into the Asieru-Sweet Family) BA(Hons), MBA, CB, AMP
MB as fondly called by her friends is a leader and formidable change enabler of excellence, who is very passionate about two things: mentoring and banking.
She has over Thirty Years post graduation work experience out of which over Twenty-Nine Years has been in Banking. MB served with Central Bank of Nigeria, Bauchi, joined Sterling Bank with the successful Merger of Equitorial Trust Bank Limited and Sterling Bank Plc as a Deputy General Manager. She was an active member of the Interim Management Team of Sterling Bank Plc. She and other members of the Interim Management Team successfully completed the full Integration of People, Systems and Processes in record time of six months of ETB to Sterling.
She has vast experience in Risk Management, Marketing, Transaction Banking, Branch Operations, Trade Finance, International Operations, Investment Banking, Treasury, Financial Institutions Management, Corporate Banking.
She is currently a General Manager with Sterling Bank Plc, Nigeria. She is the Divisional Head, Corporate Client Coverage and Sales Division which includes Energy group (Upstream, midstream, Downstream) Power and Renewable Energy, Manufacturing/FMCG, Telecommunications, Financial Institutions/ Coverage, Emerging Corporates, Wealth Management and Multinationals, the groups have evolved maximally under her leadership.
She chairs the Bank's Service Management Committee where she enables the Bank to offer exceptional services to the clients and customers that we serve. She also sits on the Leadership of the Bloom Network; formed to mentor and enable younger female bankers to optimize their banking careers. As with any individual of value, agility, and impact.
Mojisola has gone beyond just the walls of her workplace as she is an active member of several bodies where she continues to introduce and manage change for the Banking Industry and Nigeria as a whole.Mojisola is a Fellow of the Chartered Institute of Bankers of Nigeria and she has joined other learned colleagues who are particular about advancing the industry for a common good.
She is a Chartered Banker Scotland, United Kingdom, a fellow of Institute of Credit Administration, Nigeria, she is a fellow Enterprise Risk Professionals, she is an Honorary Fellow of Chartered Institute of Loans and Risk Management. she is also an advisory Council member of CAFEi, an NGO committed to consumer awareness and financial literacy. She loves Banking and believes her touch points must be impactful. She is committed to mentoring to build a better tomorrow.
She is currently a Vice President of the Lagos chamber of commerce and Industry where she currently serves as the chairman of BEST Board, she also served as the chairman for Membership and Welfare committee at LCCI where she helped to drive membership for the chamber. MB, as mentioned, is passionate about mentorship and leadership with inclusion and this has spurred her quest for knowledge on how she can continually lead, adopting a supportive style. To this end, she has taken leadership courses which include:
Strategy Execution Programme -INSEAD Fontainebleau, France – April 2022
Corporate Governance and Board Leadership -Lagos Business School- Pan Atlantic University -July 2021
Women Executive Leadership: Business Strategies for Success -The Wharton School-University of Pennsylvania – November 2019
Leading Organizational Change Program the Wharton School, University of Pennsylvania -December 2018
She was recently elected as the National Treasurer of the Chartered Institute of Bankers of Nigeria, an institute she had served on the governing council for two tenors.
She is an alumnus of the revered INSEAD Fontainebleau, France. She is also an Alumnus of Bangor University North Wales, United Kingdom, she is also an alumnus of the Lagos State University, Lagos, Nigeria.