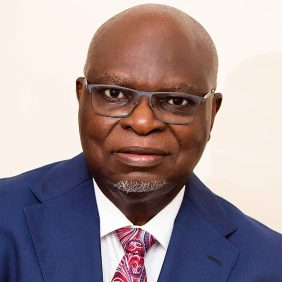 Dr Segun Aina is a global professional banking leader, internationally recognised fintech ecosystem builder, corporate icon, chartered arbitrator, serial entrepreneur and futurist.
With three decades of distinguished banking career in three banks including six year tenure as Bank CEO before leaving active banking service, Dr Aina was President of Chartered Institute of Bankers of Nigeria, as well as West African Bankers Association Nigeria Chapter and is currently Chairman of Global Banking Education Standards Board (GBEStB), the first person to hold that position since it's establishment in 2017 by leading professional banking institutes across the globe.
Dr Aina is the Chairman of the Board of Trustees of Fintech Association of Nigeria FintechNGR and President of Africa Fintech Network, both of which he initiated, and is variously described as Fintech Grandmaster and Africa's FinTech envoy. He has incubated a number of successful innovative fintech startups to business prominence. He currently sits on the Boards of various institutions in fintech, banking, insurance, agriculture, technology sectors etc including Chairman, Odua Investment Co Ltd; Vice Chairman, Accion MFB; Chairman, The Fintech Institute; Chairman Opolo Global Innovation Ltd etc.
Dr Segun Aina had rendered extensive service to the Nigeria University system- he was a Member of the pioneer Advancement Board of Obafemi Awolowo University, Ile Ife 2006-2012 and has been since 2011, the Chairman of Advancement Board of Federal University of Technology Akure; Member, University of Ibadan Research Foundation; Co-Chairman of the Think Tank for Commercialisation of Research Outputs which is an initiative of the University of Ibadan, as well as Member, Advancement Board of Osun State University. He also serves as a member of UK-Africa Fintech Investment Group, a UK Government initiative.
Dr Aina is an alumnus of the University of Lagos and University of Ibadan, and had executive business education at Lagos Business School, Harvard Business School USA, INSEAD, France and IMD Switzerland.
Dr Aina has received honorary Doctor of Science degrees from three Universities and awarded the National Honour of Officer of the Order of Federal Republic of Nigeria (OFR).