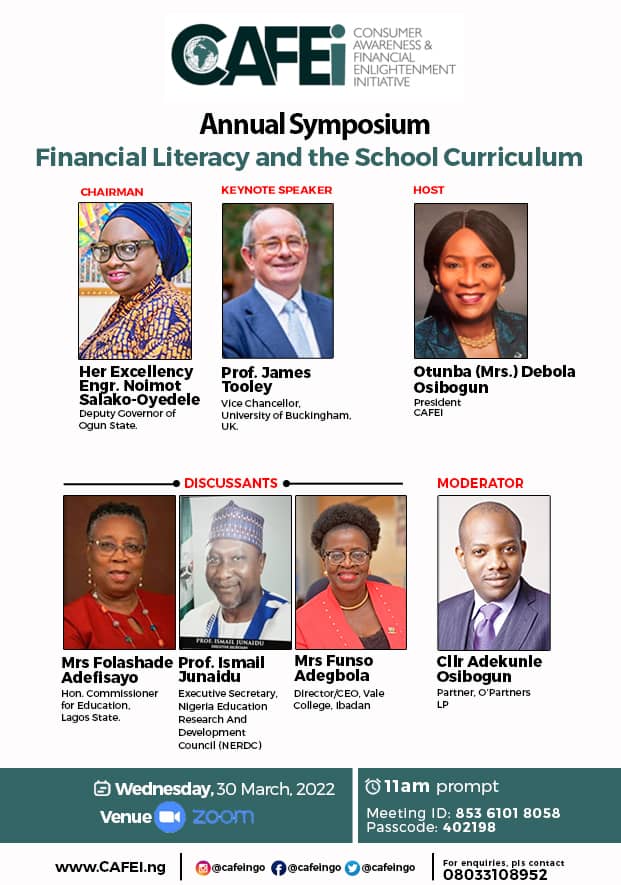 Consumer Awareness and Financial Enlightenment Initiative (CAFEi)
 Communiqué issued at the End of
 Annual Symposium
(Virtual)
 Date: Wednesday, 30th March 2022
 Communiqué and Highpoints
1.0       Overview
Consumer Awareness and Financial Enlightenment Initiative (CAFEi) held its annual symposium with the theme "Financial Literacy and the School Curriculum" on Wednesday, 30th March 2022. The symposium was organised to mark the 2022 Global Money Week. As part of the key initiatives of CAFEi in promoting financial literacy and awareness, the 2022 edition of CAFEi Magazine was also unveiled during the symposium by her Excellency, Deputy Governor, Ogun State Eng. Noimot Salako-Oyedele. The magazine cover title was "A Matter of Trust" and it carried several insightful articles, including Spotlight of Nigeria's Banks Private Sector Reforms, Implication of Covid-19 on Financial Inclusion of Financial Literacy, Leveraging on Big Data to Enhance Sustainability in Financial Sector, Bridging the Financial Literacy Gap, and Blockchain, Fintech and the Future of Banking. It also included past events such as the World Savings Day.
The welcome address at the symposium was delivered by the host, Otunba (Mrs.) 'Debola Osibogun, FCIB, while the keynote speech was delivered by Professor James Tooley, Vice Chancellor, University of Buckingham, UK. The programme was anchored by Mrs. Mojisola Bakare, while Mr. Adekunle Osibogun moderated the panel discussions. The distinguished panelists included:
Professor Folasade Adefisayo; Commissioner for Education, Lagos State.
Professor Ismail Junaidu; Executive Secretary, Nigerian Educational Research and Development Council, Abuja FCT.
Funso Adegbola, Director, Vale College, Ibadan, Oyo State.
2.0       Key Highpoints
The key highpoints and recommendations are highlighted as follows:
Africa is a continent with high youthful population, and about 60% of this population falls under age 25.
12% of Nigeria's population own a smart phone and this is expected to increase to 60% by 2026. This creates opportunities to scale financial literacy in Nigeria.
Financial literacy gap is a global challenge, but more evidenced in developing economies like Nigeria and India, among others.
Evidenced-based research indicates that there is low degree of financial literacy among women, which consequently limits the financial inclusion drive.
Financial literacy has a strong association with high level of education and income attainment.
Interventions in financial literacy foster improvement in financial behaviour, especially when the beneficiaries are exposed to practical financial literacy programmes.
70-75% of children within the age bracket of 5-14 years are enrolled in low-cost schools in Lagos State.
Affordability, ubiquity and lack of gender bias are key indicators that characterize low-cost private schools.
The children in the informal sector have practical knowledge in financial literacy than the formal sector, which may be attributed to their exposure to business practices and financial management early on in life.
Whilst financial literacy is embedded in several school subjects, there is still a huge gap in its effectiveness and understandability.
Financial literacy is crucial in making appropriate financial choices that will enhance financial freedom and resolve the challenges related to the poverty cycle.
The restriction imposed because of the Covid-19 pandemic made some children learn new vocational skills. The government created a platform for students to cultivate a savings culture and learn how to earn, grow income, and invest.
Some of the key initiatives of government to enhance financial literacy in Nigeria include:
Development of a financial literacy framework through collaborative efforts of key stakeholders from various financial institutions, targeted at primary and junior secondary school pupils.
Credit, insurance, financial and entrepreneurship are integrated into financial standalone curriculum to promote financial literacy among the pupils.
Infused elements of financial literacy into core subjects such as English Language studies, Civic Education and English Comprehension to further scale up financial literacy. For example, writing composition on financial literacy.
Implementation of the curriculum is currently at the pilot test stage.
3.0       Resolutions and Recommendations
CAFEi
Nigeria has huge low-cost private schools spread across the country, and this an opportunity for CAFEi to conduct a pilot programme on financial literacy in targeted schools with less regulatory approval.
Initiate media programmes that will educate Nigerian youths on financial literacy and provide practical case studies that showcase the impact of the programme. This can trigger the government and regulators such as the Central Bank of Nigeria to appoint CAFEi to champion financial literacy awareness campaigns targeted at Nigerian youths.
Government
State and local governments should develop programmes that will promote literacy clubs in the schools. This is one of the successful initiatives of Lagos State Government to foster financial literacy.
As technology continues to serve as a strategic enabler across diverse sectors of the economy, it is imperative to deploy technology tools that promote financial literacy. This requires commitment of technical and financial resources from both the government and private sector.
Nigerian Educational Research and Development Council should consider incorporating financial literacy nuggets into key subjects such as Mathematics, Pre-vocational Studies, etc.
Government needs to improve the quality of the education in low-cost schools through continuous regulatory oversight on the schools.
Build the capacity of qualified and experienced teachers across key subjects such as English Language and Social Studies to promote financial literacy.
Financial Institutions
Financial institutions are encouraged to develop specific programmes as part of their corporate social responsibility projects to promote financial literacy among teachers and pupils through provision of resources that will drive these initiatives.
Create practical and experiential learning initiatives that promote financial literacy among school pupils.
Parents
Children should be encouraged to join clubs that promote financial literacy and build generational wealth.
Parents have key roles to play by evaluating the quality of the schools they send their wards to.
Children should be exposed to projects that can foster financial literacy and solve social problems by initiating fundraising projects that encourage donations to motherless babies' homes.
Stakeholder Collaborations
Effective collaboration among Non-Governmental Organisations, private sector players, financial industry players, government educational institutions and regulatory agencies is central to promoting financial literacy.
Developing curriculum to promote financial literacy is a step in the right direction. However, it is important for stakeholders to promote initiatives to build the capacity of teachers in financial literacy. This can take the form of provision of resources to teachers and building of their capacity to teach finance.